The evolution of artificial intelligence has given rise to various powerful tools that can generate effective captions for you.
These tools help you to create compelling captions that are essential for you to capture your target audience. This ensures that you do not have to spend time trying to create captions that would resonate with your audience.
In this article, we will explore the three best AI caption creation tools that can help you create captivating captions that engage and convert. These should be a part of your social media strategy.
Let's get started.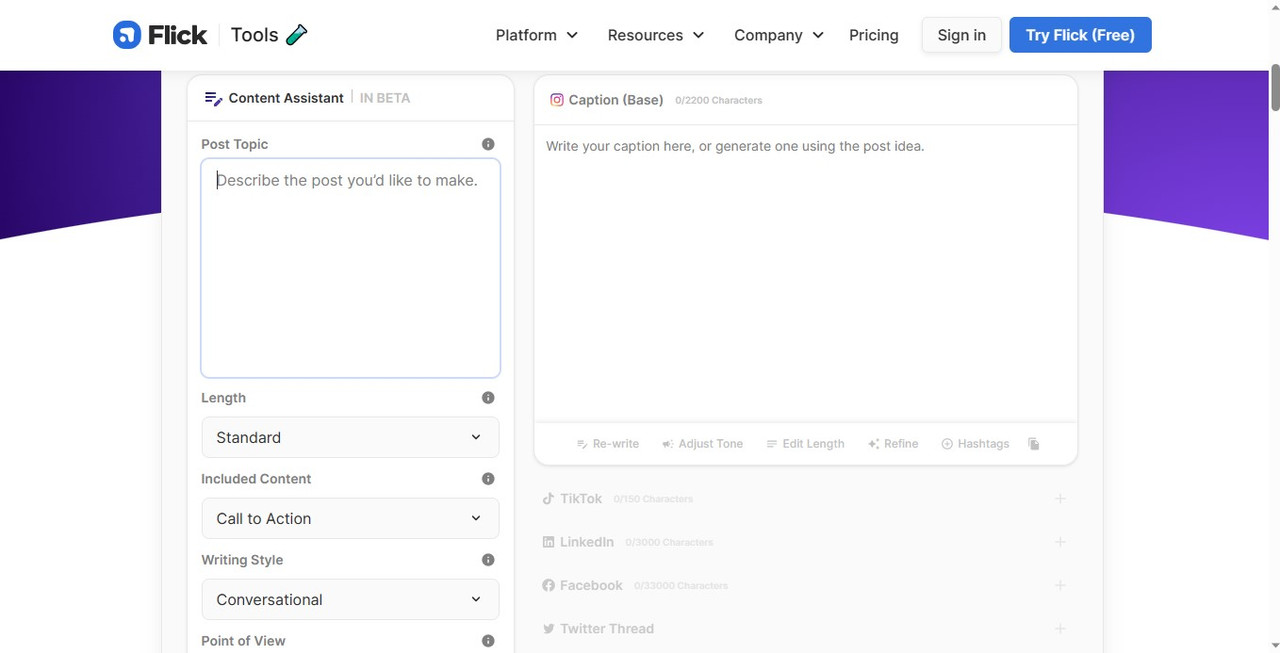 Image via Flick AI Caption Generator
Flick is a top-notch caption generator for your social media posts. It generates engaging and on-brand captions for your business using parameters like the topic, point of view, writing style, and so on. This ensures that the captions are not just generic jargon returned by the AI.
With Flick, your productivity is bound to increase. This is because you do not need to spend time brainstorming for creative captions to capture your target audience. It's like having your personal copywriter at arm's length.
Pros
Generates captions and well-optimized hashtags on demand for you once you add in a topic.
It allows you to tweak the settings for your captions so that the result is the desired outcome.
The user interface is very easy to navigate.
 The 7-day free trial allows you to test its functionality before committing to it financially.
Cons
The price might be a bit steep for small businesses.
Pricing
Solo: £11/month (billed yearly), £14/month (billed monthly)
Pro: £24/month (billed yearly), £30/month (billed monthly)
Agency: £55/month (billed yearly), £68/month (billed monthly)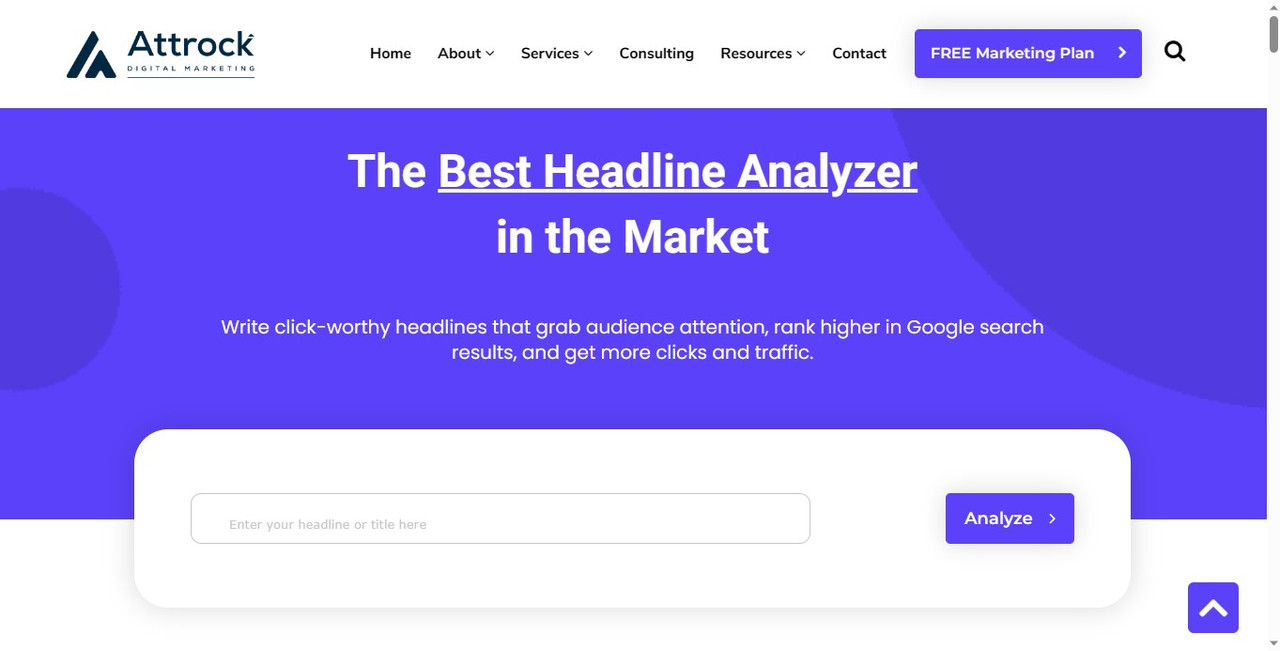 Image via Attrock Headline Analyzer
The best captions for your brand are ones that engage and convert your target audience. But to truly grab the attention of your audience, you need compelling headlines and Attrock headline analyzer is the perfect tool for that.
It uses key parameters like word balance, clarity, and readability to analyze how your headlines will perform on Google search results.
Upon analyzing the headlines, it gives you a score (between 1 and 100). It also suggests ways to improve the caption, which ultimately leads to a better score for the caption.
Pros
It's very easy to use, making it suitable for everyone.
Its user interface is intuitive and user-friendly.
It assigns a score based on multiple parameters.
It's free.
Cons
It does not generate captions or headlines on its own.
Pricing
It is completely free for everyone, with no hidden charges whatsoever.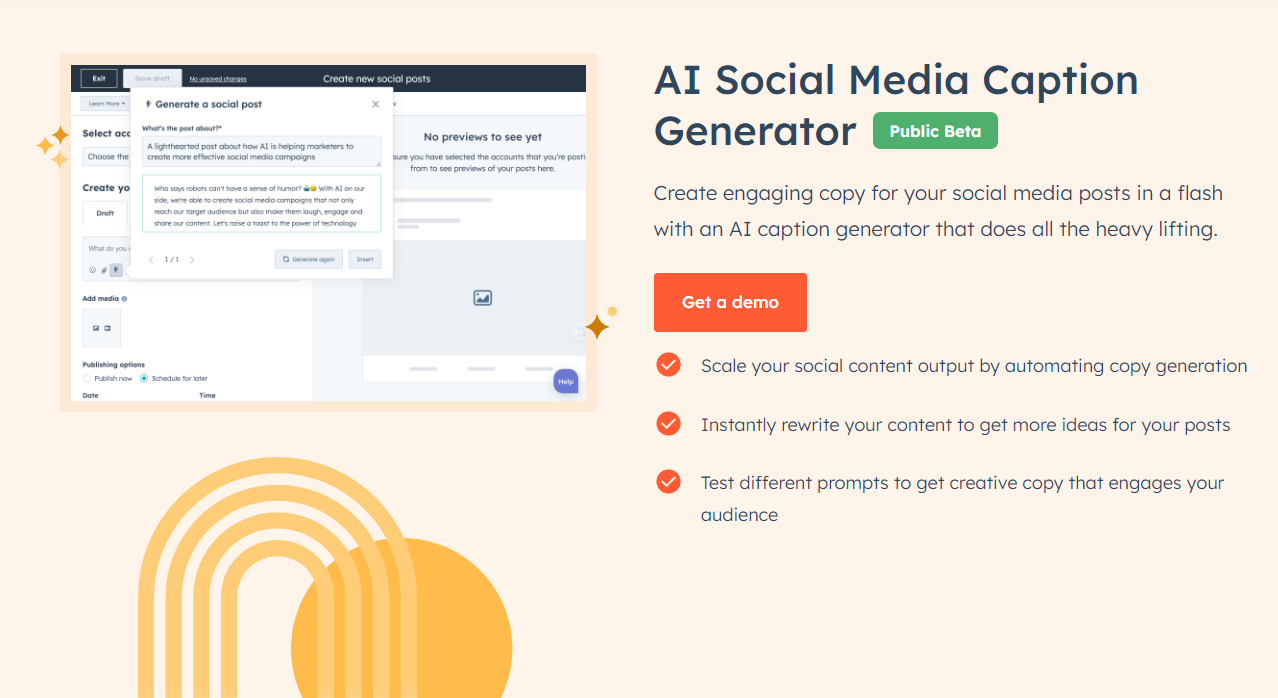 Image Via HubSpot AI Caption Generator
When it comes to creating captions that pique the interest of your target audience, HubSpot is an excellent choice. It's often said that even the best content is overlooked if it doesn't have the best headers/captions.
With HubSpot, you can generate your ideal caption by keying in certain parameters such as:
Tone
Description of Content
Character word count
Desired Post format
Emoji and hashtag requirements
HubSpot helps you save time and scale your content output. This is because it allows you to copy, edit, rewrite, and refresh existing captions as needed.
Pros
Card details are not needed for the free trial.
You can try the tool for free for 14 days.
Cons
It's expensive.
It requires a slight learning curve.
 Pricing
Professional: $800/month
Enterprise: $3,600/month
Final Thoughts
In this age of Artificial Intelligence, having good AI caption creation tools is a no-brainer. From boosting your productivity to generating intriguing and captivating captions, the benefits are just numerous.
If you are looking to create engaging captions for your social media posts, you should use one of the AI caption creation tools mentioned above. Combine it with useful marketing tools to further boost the reach and engagement of your social media content.